The Poco M4 Pro 5G, like the Poco M3 Pro 5G before it, is a budget device from Xiaomi that seeks to obtain the most value for the least amount of money: £219 / AU$450 (about $300) and above.
When it comes to smartphones, money is often the first and most significant issue for many people, and the Xiaomi Poco M4 Pro 5G undoubtedly delivers on that front.

In exchange for your money, you will receive a decent-looking smartphone with a large, brilliant screen. While performance isn't fantastic (and isn't substantially better than its immediate predecessor), the phone will do what you need it to do with the least amount of trouble (and with plenty of time between battery charges as well). For some, it may be all they require to know.
However, if you look a bit closer, you can see where Xiaomi has saved money. The Poco M4 Pro 5G's camera arrangement isn't great, and you're also missing out on features like Wi-Fi 6, waterproofing, and wireless charging. It all comes down to your priorities and how much money you're prepared to spend on your future smartphone.
Xiaomi's MIUI isn't one of our favorite Android skins, but that's more of a personal preference than an objective judgment - there's just a little too much bloat and needless flotsam for our tastes, but the software is very customizable. With this phone, you at least have the added benefit of 5G, so you're ready for the next-generation networking revolution.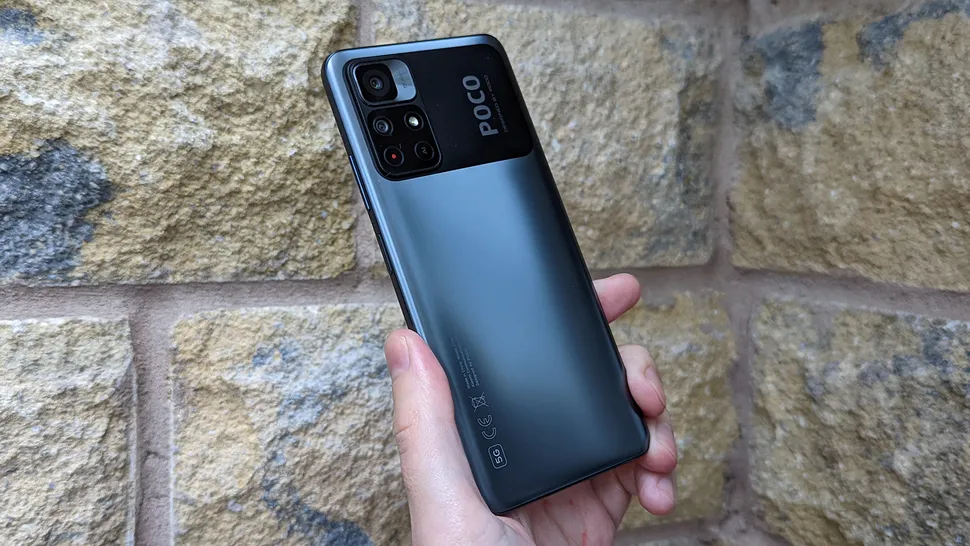 (Image Source: Future)
If you're looking for the greatest affordable phone, the Xiaomi Poco M4 Pro 5G has to be considered at some point. However, with mediocre performance and merely adequate camera quality, the phone's inexpensive price, display, and battery life are what sell it the most.
In terms of direct competition, the £170 / $200 / AU$299 Moto G31, the £229 /$279 (about AU$365) Samsung Galaxy A32 5G, and the £199 / $299.99 /AU$449 Nokia G50 are all worth considering, and the Poco M4 Pro 5G certainly holds its own.
However, you don't have to pay a lot more money to acquire upgrades like an OLED screen and a better camera system.
Xiaomi Poco M4 Pro 5G Review: Pricing and Availability
The Xiaomi Poco M4 Pro 5G is now available in the UK, albeit it is not widely accessible. The best place to buy it is probably Amazon, where you can get the 64GB version for £219 and the 128GB variant for £239, both SIM-free and unlocked.
It's a similar scenario in Australia, where it's not widely available but can be obtained for roughly AU$450.
As is customary with Xiaomi phones, the gadget is not widely available in the United States - some places carry an international variant, but it will not function on all carriers. The handset is known as the Redmi Note 11 in China.



Xiaomi Poco M4 Pro 5G Review: Design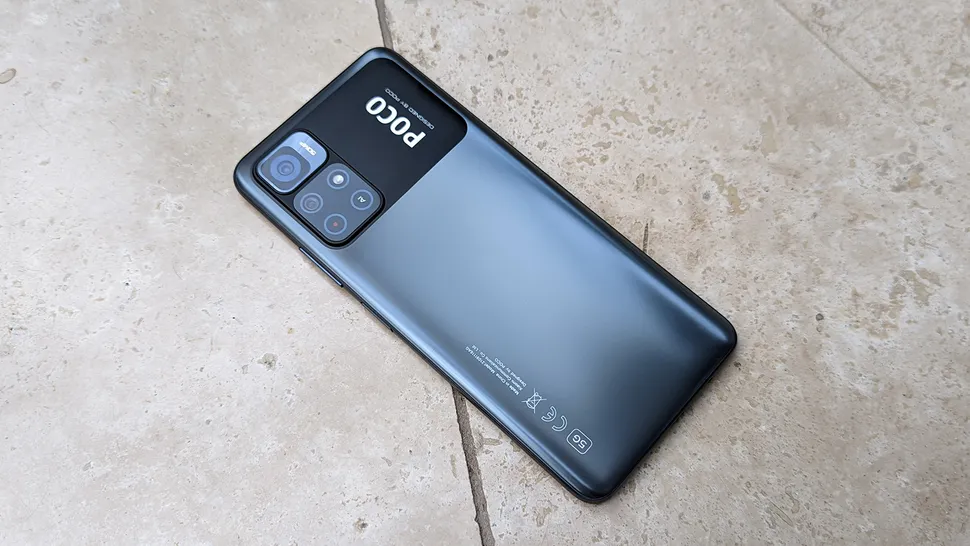 (Image Source: Future)
The Poco M4 Pro 5G delivers more flamboyance in terms of design than a lot of other devices at the same price, with its slick, two-tone back and huge camera bump – but we can understand the very large Poco branding turning some people off. Of course, it's just plastic, but it's wonderfully done plastic that fits pleasantly in the hand.
The dimensions you need to know are 163.6 x 75.8 x 8.8mm (6.44 x 2.98 x 0.35 inches) — proportions set mostly by the 6.6-inch screen – and the phone weighs 195g (that's 6.88 ounces). It's pleasingly light and won't add much weight to your pocket or backpack.
We were provided the black version for review, but you can also get this phone in yellow or blue, which are a little more eye-catching. This isn't the phone to choose if you want something simple and minimal, but it's great to see a smartphone that isn't just repeating the same old formula.
As you look at the phone, all of the physical controls are on the right: a volume rocker and a power button. The fingerprint sensor is incorporated into the power button rather than the display, as is customary with lower-cost devices — we like it the other way around, but you may disagree (and it's not a big deal in any event).
Xiaomi has included a 3.5mm headphone jack on the bottom edge of the Poco M4 Pro 5G to manage charging and data transfer. You wouldn't expect full waterproofing on a phone at this budget, and you don't get it, since the phone just has an IP53 classification for dust and splash protection.



Xiaomi Poco M4 Pro 5G Review: Display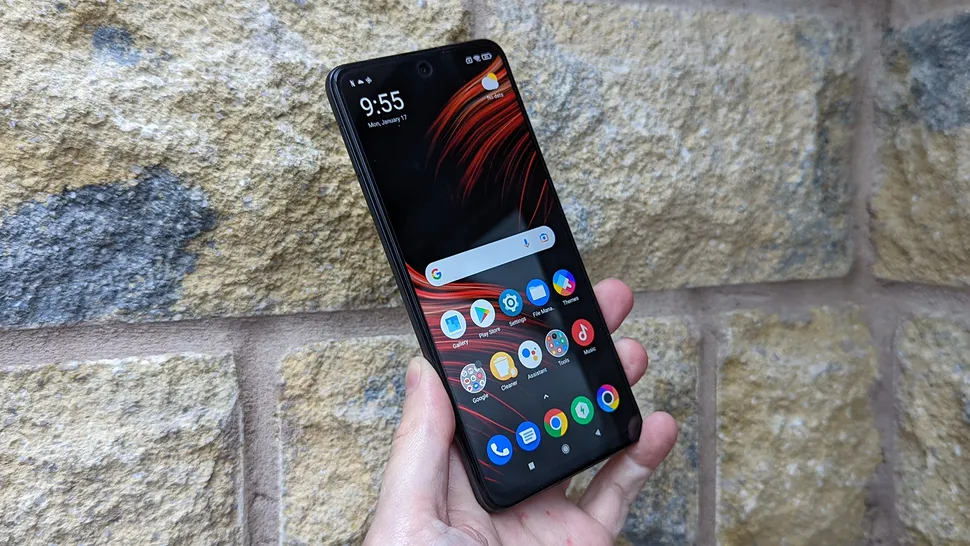 (Image Source: Future)
The Poco M4 Pro 5G comes with a very serviceable 6.6-inch IPS LCD screen with a resolution of 1080 x 2400. (making for a 20:9 aspect ratio). The 90Hz refresh rate has become the new standard for smartphones, even those at the low end of the market, and the scrolling and motion are pleasingly smooth.
While the display can't compete with the rich contrast and intense brightness of an OLED panel, it's adequate for the price, especially with the brightness turned up. Colors pop, and details are vivid and crisp — and if you don't like the default appearance, you can switch to one of two different styles (as well as a color wheel that lets you set the color temperature manually as needed, from warm to cool).
The bezels around the display are thin and narrow, with the exception of the bottom chin, which is somewhat larger than the rest. The only thing that detracts from the screen is a circular cut-out at the top that houses the selfie camera.

Xiaomi Poco M4 Pro 5G Review: Camera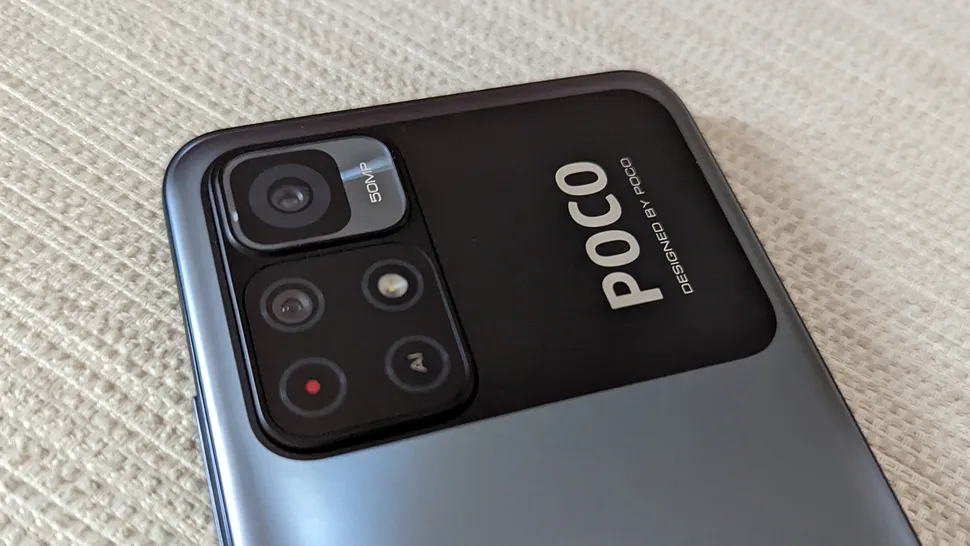 (Image Source: Future)
The Xiaomi Poco M4 Pro 5G's dual-lens 50MP+8MP rear camera isn't going to win any best-in-class awards, and while it's not bad, it's clearly one of the weaker components of the package as a whole. That's not to say the phone can't take nice photos; it can, but they don't always hold up to inspection (especially in low light).
You get an ultra-wide lens, which might be useful for stunning landscape photographs, but no optical zoom and the digital zoom is inevitably ragged around the edges. On the front, there's a very typical 16MP camera that takes adequate photos but not much more.
Browse through a portfolio of photos shot with the Poco M4 Pro 5G and you'll most certainly be impressed: color reproduction and contrast are superb, brightness is nicely balanced (even more so with HDR enabled), and photographs are captured quickly. If you want to take some eye-catching photos for social media, this phone can do the job – especially outside in good lighting.
However, if you examine images shot with your phone more attentively, finer details get hazy, and colors occasionally appear washed out. There is a significant amount of noise at lower light levels, however, the built-in night mode can help. You can still capture some passable shots, but smartphone cameras at higher price points can do a far better job in the dark.
Xiaomi Poco M4 Pro 5G: Specifications and Performance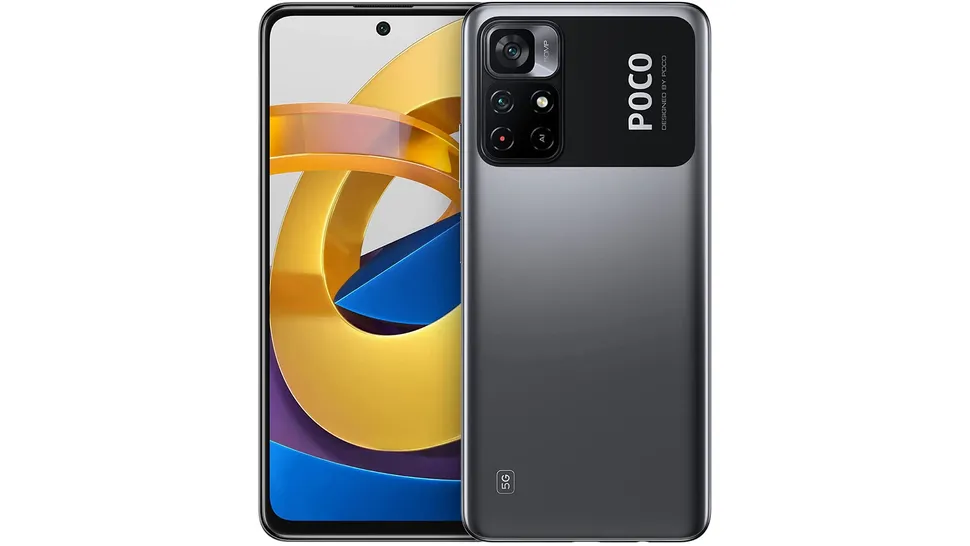 (Image Source: Xiaomi)
The MediaTek Dimensity 810 chipset found inside the Poco M4 Pro 5G doesn't provide much of a performance boost over the MediaTek MT6833 Dimensity 700 found in the Poco M3 Pro 5G last year, but it'll still accomplish all you need it to do on Android – including running demanding games.
In addition to the CPU, you'll get 4GB of RAM and 64GB of storage, or 6GB of RAM and 128GB of storage (a microSD card slot is available for adding more storage space if you need it).
We'd absolutely prefer the latter of those two alternatives, albeit it does raise the price significantly. This is one of the areas where Xiaomi has decreased expenses, as seen by Geekbench scores of 572 (single-core), 1,567 (multi-core), and 1,593 (OpenCL).
There is some little slowness while switching between programs and moving around menus on occasion, but not to the extent that it detracts from the user experience. If you want to spend a fraction of the price of the top-tier flagship smartphones on the market, you'll have to make some sacrifices.
The phone runs Android 11 with Xiaomi's MIUI interface wrapped over it. It's not our favorite Android skin, and there's a little too much bloat here for our tastes, such as the embedded advertisement that appears anytime you install something from the Google Play Store. Xiaomi phones have several advantages, but the software is not one of them.
5G isn't yet commonplace on every smartphone, but we're getting close. If next-generation connection technology is available in your region, the Poco M4 Pro 5G will be able to connect to it, as the device's name indicates. In a nutshell, you get a lot of your money with this phone.

Xiaomi Poco M4 Pro 5G: Battery life
The 5,000mAh battery in the Xiaomi Poco M4 Pro 5G easily achieves the normal one-day of usage, and if you're not continuously streaming films, playing games, and using GPS navigation, it's feasible to get a couple of days of use.
For the majority of the days we tested, the battery level was still above 50% in the evening after a full charge in the morning.
Of course, one of the benefits of a cheap phone with a less demanding screen and more pedestrian components is that it doesn't consume as much power. An hour of video streaming depletes the battery by roughly 9% (at maximum brightness and low volume), so you can expect about 11-12 hours in total.
There is no wireless charging here – and you wouldn't expect it at this price – but the 33W wired charging speed is adequate, and means you won't have to wait too long to charge the device (about an hour or so from zero).
(1)
Login first for like post.